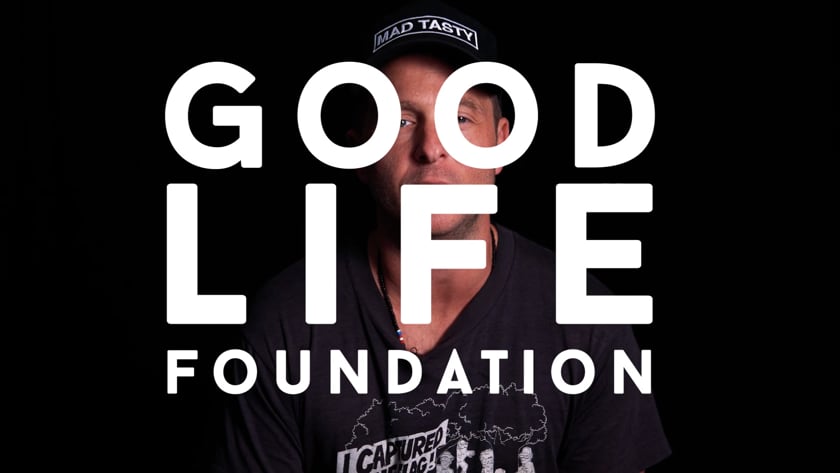 About Us
The OneRepublic Good Life Foundation is a public non-profit organization founded by the members of OneRepublic. The foundation is dedicated to giving those in need of help the chance to live a Good Life.
"We've had the opportunity as a band the last several years to travel around the world and witness firsthand some of the worst and best living situations on earth. From shanty towns in Africa without electricity or water, to the worst neighborhoods in our own backyards. It has reinforced our fundamental belief that no matter what family, city, country, or economic environment you are born into, you deserve the right to a good life.
The OneRepublic Good Life Foundation is a vehicle for us as a band to use our resources and network to provide relief for a multitude of causes on a global scale.
One day it's providing clean water, the next its medicine or food for kids in need. The goal is, in the end, to do what we can, while we can, to ensure as many people in the world have a chance at living a Good Life." – Ryan Tedder
we are dedicated to the idea that no matter the circumstances or environment a person is born into, they deserve the right to a good life.
"WE LIVE IN A WORLD IN WHICH WE NEED TO SHARE RESPONSIBILITY. IT'S EASY TO SAY 'IT'S NOT MY CHILD, NOT MY COMMUNITY, NOT MY WORLD, NOT MY PROBLEM'. THEN THERE ARE THOSE WHO SEE THE NEED AND RESPOND. I CONSIDER THOSE PEOPLE MY HEROES." - FRED ROGERS
Partners
onerepublic proudly partners with these organizations
Slavery Still Exists and it needs to be stopped.
There are 40+ million slaves in our world today, this is more than any other time in human history.
Slavery is a multibillion-dollar industry and 1 in 4 victims of slavery are children.
We've teamed up with International Justice Mission, the largest international anti-slavery organization in the world.
IJM has rescued more than 49,000 people from slavery and other forms of violence.
They've helped local authorities arrest more than 3,800 suspected slave owners and other criminals.
Join us and IJM in the fight to end slavery.
Influenced by their son Brandon's schizophrenia diagnosis, Shari and Garen Staglin launched One Mind in 1995 to bridge the gaps that they saw in mental health research funding and patient support.
Since then, One Mind has become the leading brain health nonprofit committed to healing the lives of people impacted by brain illness and injury through global, collaborative action. At the helm of this groundbreaking work is Brandon, now the President of One Mind.
There with Care is a foundation Eddie and his family have been involved with locally in Denver.
The foundation supports families and children facing critical illness.
When a child is diagnosed with a life-threatening illness, families are frightened and day-to-day obligations can become overwhelming.
There with Care steps in, helping with groceries, hot meals, rides to the hospital, house cleaning to keep immune-compromised kids safe, and so much more.
By bringing the community together, they build a much-needed safety net for these families in crisis, and they do it with compassion and care.
"We got to experience the impressive work of Operation Smile first-hand whilst on tour.
We watched the mission go down with all the volunteers, watched all the work come together, and watched two operations take place.
Around the globe each year, tens of thousands of children come into the world with a cleft lip or cleft palate – often they are unable to eat, drink, or speak properly, and unable to smile.
We are fortunate to be born in America, where a cleft lip and cleft palate is easily fixed at a very young age by surgery usually covered by insurance.
However other communities around the world don't have easy access to something we just saw take place in 45 mins and there is a major stigma that comes with a facial deformity. Even for me who grew up with a series of surgeries, this was not on our radar that in other parts of the world it's such a serious thing.
That's one of the great things Operation Smile does, they bring that awareness that a little bit of effort and a little bit of help can change someone's life in 45mins." – Drew Brown
Millions of children in the U.S. and around the world are desperately in need.
Vulnerable children in poverty. Denied an education. Forced to flee violence. Orphaned, abused, abandoned.
Every day, 16,000 children die before their 5th birthday, mostly from preventable causes.
The world's children deserve better, they deserve a healthy start to life, the opportunity to learn and protection from harm.
In 2018 alone, Save the Children reached more 134 million children in 120 countries, including the U.S.
OneRepublic's single "Feel Again" was inspired by children's heartbeats, the single supported Save the Children's 'Every Beat Matters' campaign.
Ryan Tedder wrote the song, drawing on recordings of heartbeats of children in remote villages of Malawi and Guatemala for inspiration.
Cystic Fibrosis is a genetic disorder that affects the lungs, pancreas, and other organs.
There is no cure for cystic fibrosis and the mission of the Cystic Fibrosis Foundation is to cure cystic fibrosis and to provide all people with the disease the opportunity to lead full, productive lives by funding research and drug development, promoting individualized treatment, and ensuring access to high-quality, specialized care.
OneRepublic's "I Lived" music video captures the amazing story of 15-year-old Cystic Fibrosis patient Bryan Warnecke, bringing to light his remarkable courage and personal drive to live life to its fullest.
Victoria's Victory Foundation provides Victory Scholarshi
ps to help to those with mobility challenges and other special needs.   VVF gives the gift of hope through resources such as wheelchairs, mobility equipment, home adaptations, nursing services, training and recovery sessions, vehicle modifications and medical supplies.
Victoria's Victory Founder and Paralympic swimmer Victoria Arlen, was diagnosed with a rare illness when she was 11 and slipped into a vegetative state for four years, doctors told her family that she would never be able to talk or walk again. Victory's determination leads her to speak, eat, walk, move again and go on to win four medals at the 2012 Paralympic Games and compete into the smi finals of Season 25 of Dancing with the Stars.
"'Good Life' was my gold-medal song and is what I sing when I need to get focused and keep calm,"
When Victoria danced on DWTS she and partner Val performed to "I Lived".
Free the Girls help women rescued from sex trafficking reintegrate into their communities. Through Free the Girls unique model, these survivors are able to start their own business selling bras in their local second-hand clothing markets while they recover and build their new life. They accept both new and gently used bras of all sizes and styles, you can donate a bra at one of their drop off locations or make a cash donation which goes towards shipping bra packages to survivors all around the world.
SOS Children's Villages Illinois are committed to providing safe, stable, and loving homes for children in Foster Care. They do this by keeping brothers and sisters together in an individual home in the care of a full-time, professional Foster Parent. Their innovative approach to traditional Foster Care is redefining our communities. Their Chicago Village offers educational and recreational programs for Village residents and community members. This highly supportive setting provides children a sense of safety, security, and community.